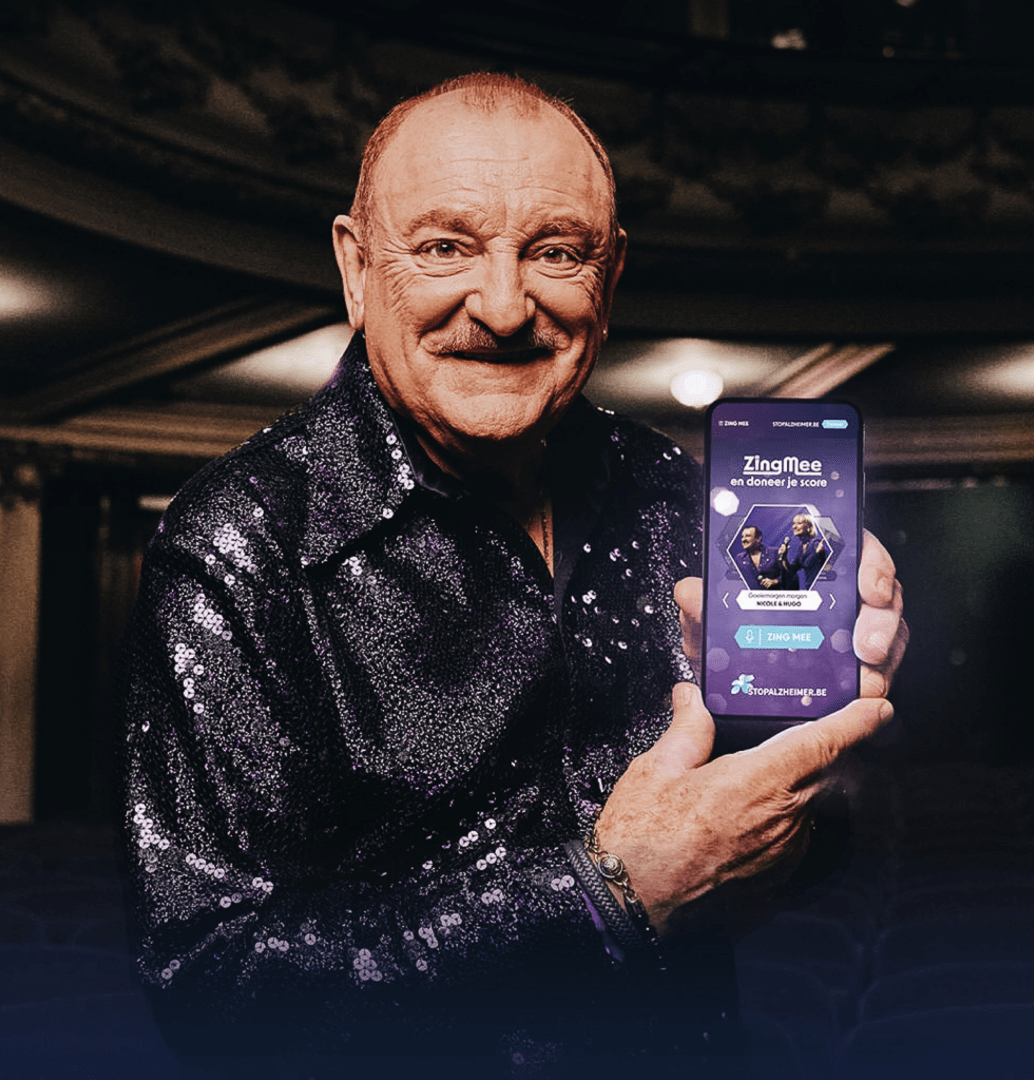 Sing for Alzheimer
The "Sing for Alzheimer's" campaign brought together the power of music and memory in a collaboration between nocomputer, BBDO, and Stichting Alzheimer Onderzoek (SAO).
Challenge
BBDO partnered with nocomputer to execute the technical aspects of their idea. Drawing on BBDO's designs, nocomputer diligently built a highly interactive web application from scratch, driven by artificial intelligence. This campaign centers around Nicole and Hugo, beloved musical icons in Belgium who have captured the hearts of many over the years. Unfortunately, Nicole was diagnosed with Alzheimer, a condition affecting one in three women, which drastically altered her life. As the disease gradually eroded her memories, the vibrant lyrics of her songs began to fade away. Fearing the loss of her own music, Nicole relied on autocues, a poignant symbol of Alzheimer's impact. In light of these life-altering events, Hugo, her partner, became the new ambassador for the Alzheimer's Research Foundation (SAO). Inspired by Nicole's story, SAO, BBDO, and Hugo joined forces to create a meaningful campaign—an online platform that utilizes music as a bridge to connect, educate, and rally support for Alzheimer's research.
With BBDO's designs as a guide, the nocomputer team took on the task of transforming this touching story into an engaging web application. The objective was to develop an application that would captivate, resonate, and motivate action—a platform that would prompt Belgians to reflect on their own memories and comprehend the impact of Alzheimer's in an interactive manner.
Karaoke with Speech-to-Text AI
Building on this narrative, BBDO conceptualized an application that offered users a karaoke experience. The idea was to display lyrics, such as "Goeiemorgen, morgen," and omit certain words for users to fill in by singing. If all the gaps were correctly filled, users would receive a score and had the option to donate that corresponding amount to SAO. To ensure a seamless and user-friendly experience, the team focused on intuitive development, allowing users of all ages to engage with clarity and enjoyment. However, the true innovation of this project lay in the integration of artificial intelligence—Whisper AI—to facilitate a seamless karaoke experience. nocomputer implemented a speech-to-text feature that transcribed the lyrics with exceptional speed and accuracy. This feature was instrumental in creating an immersive karaoke experience where users could sing, while the AI recognized, transcribed, and scored their performances in real-time.
This technology represents the cutting edge, such an advanced Dutch speech-to-text transcription was unimaginable just a year ago. Thanks to the rapid progress in AI technology, nocomputer was able to implement and optimize this feature to suit the requirements of this project. To top off, we allowed users to convert their "memories" (scores) into donations. This was accomplished by seamlessly integrating a secure and user-friendly donation process at the end of the karaoke experience. By guiding users from the interactive karaoke platform to a straightforward donation flow, we facilitated the much-needed support for Alzheimer's research.
Want to sing for Alzheimer's as well? Visit the website here
Want to learn more?
Do you want to know more about a specific project, please contact us for more information.

Learn more about this case
Do you want to know more about a this case, please contact us for more information.